Communion Enrolment Mass
Saturday, October 17th at 6pm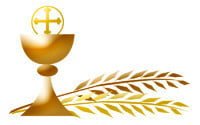 Dear Parents/Guardians,
We invite you to attend with your child, the Communion Enrolment Mass for First Holy Communion. This is the first step in your child's journey to First Reconciliation and First Eucharist.
Some practical information is as follows:


Please have your child in his/her designated seat by 5.45p.m.
The children don't have to wear their school uniform.
Please bring your child's Baptismal Candle which will be lit when they make their Communion preparation promises. If you don't have such a candle, please use a similar white candle.
The children will receive their Enrolment Certificates for Communion at this mass so please sign the bottom of these certificates, parental signature, when they bring them home.
Please send in your child's Baptismal Cert as soon as possible if you have not done so already.
Many thanks,
Dolores Kelly,   Mary Roberts,   Tadhg Morley,   Claire Egan,   Laura Mulcahy