Welcome to the website for Holy Rosary Primary School.
Welcome
Welcome to Holy Rosary Primary School's website. We hope this site will give you an insight into the busy and bustling hive of activity that is Holy Rosary Primary School.
In our school we want to create a happy, caring school where young people are encouraged to maximise their potential.
We would like to thank all the parents and teachers who volunteer to give our children the widest educational experience possible and help make Holy Rosary Primary School great!
---
Every School Day Counts
Our attendance initiative Every School Day Counts is in full swing here in Holy Rosary. We had a great response to last weeks first Strive for Five. There were prizes galore. We look forward to giving out even more prizes tomorrow for the second Strive for Five. There are two more weeks to go so loads of time to come in every day and have a chance to win a prize! We ran a poster competition and the standard of posters that were created was phenomenal. The winning posters from each class are displayed in the lobby so come and have a look. A huge well done to everyone involved.
Book your Parent / Teacher meeting
Dear Parents / Guardians,
We look forward to meeting you all on an individual basis this year to discuss your child / childrens' progress. With this in mind, your child's teachers will be available to meet with you for 10 minutes over the coming days.
We are using an online booking form so you can immediately see the times and dates available for each teacher and book your preferred slot.
Please sign up before 3pm Friday 22nd November.
When you click on your child's teacher's link below you will be redirected to the site where you can simply pick a slot and book it. (Instructions below)
Tick the time you want
Click submit and sign up
Type in your child's name
Type your first and last name
Click sign up now
If you are unavailable to meet at any of the times listed please contact us or your class teacher directly to arrange another suitable date or time.
Please click on the link for the relevant class teacher and book one time slot for your meeting.
---
Join our Choir for Adults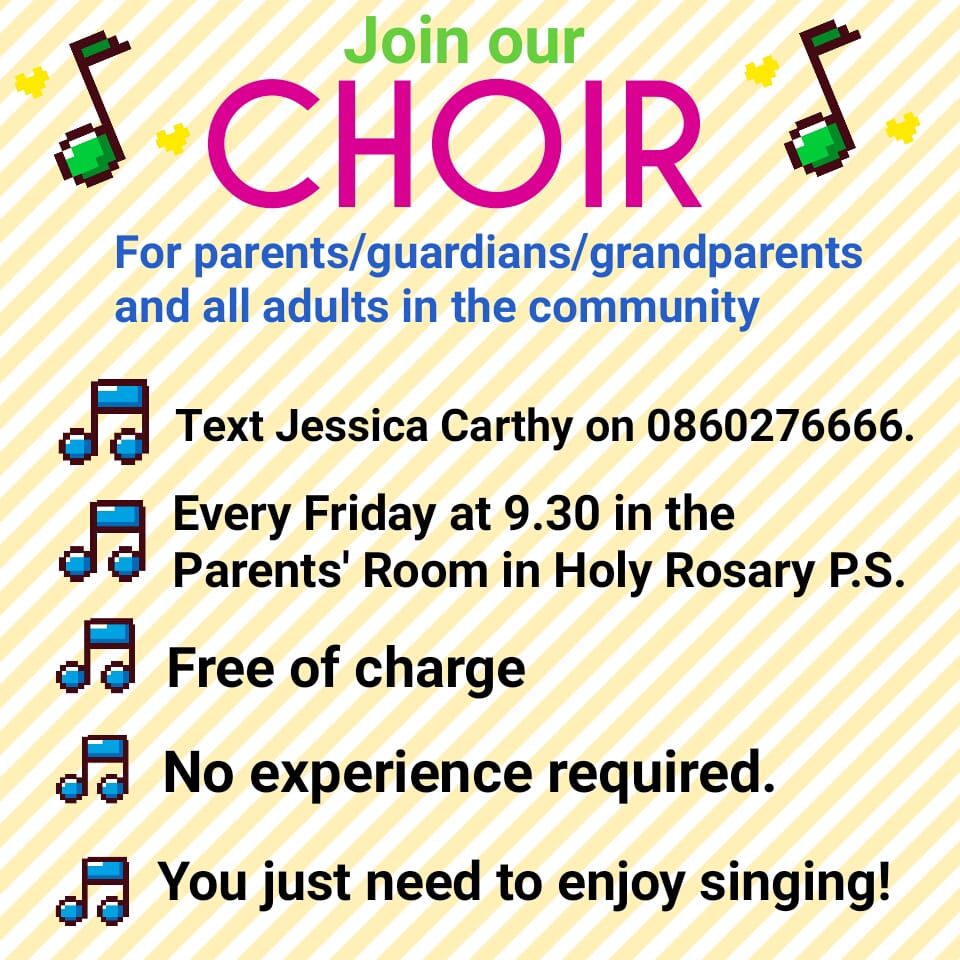 Our choir for adults starts back up this Friday at 9.30-10.30 in the Parents' Room. Parents/guardians/grandparents and all adult members of the local community are most welcome. We are a very casual and informal choir singing loads of different types of songs from This Is Me from the Greatest Showman to California Dreamin' by The Mamas and the Papas and we are open to any and all suggestions! There are no auditions, solos or sheet music, it's just a lot of singing and fun. If you would like more information or you would like to come along on Friday to give it a go call or text Jessica Carthy on 086 0276666.
Halloween Bake-Off
The student council organized a wonderful Halloween Bake-Off for the students from 3rd-6th class. Huge compliments to ALL the children who brought in spooktacular treats. The judging was a tough job but we narrowed it down to the finalists below. Our winner was Angelina from Mr O'Donoghue's 6th class so huge congratulations to her and to all who entered.
---
Christmas Shoebox Appeal
It's that time of year again when we are launching the Christmas Shoebox Appeal. The closing date for the Team Hope Christmas Shoebox Appeal is November 4th 2019. Please give your completed shoebox to your child's teacher on or before that date. The children should have received the leaflets with all the information. Please find attached a poster of ideas of what to include and what to avoid. You will find lots of information about what to include and where the shoeboxes go on www.teamhope.ie. Thank you to everybody who has supported this worthwhile cause in the past. Last year we sent away 164 shoeboxes and we're aiming even higher this year!
---
After School Classes Autumn 2019
Dear Parents,
Booking for all After School classes has now closed.

All bookings must be paid for in full by 3pm on Tuesday 24th September or the places will be lost.
The Parents Association are delighted to announce the return of the very popular After School classes for the Autumn 2019. The classes will run for 10 weeks for all children from Junior Infants to 6th class with the first classes starting on Tuesday 1st of October @ 3pm.
Spaces are limited so please book early to avoid any disappointment.
Read more on our After School Classes 2019
Sensory Garden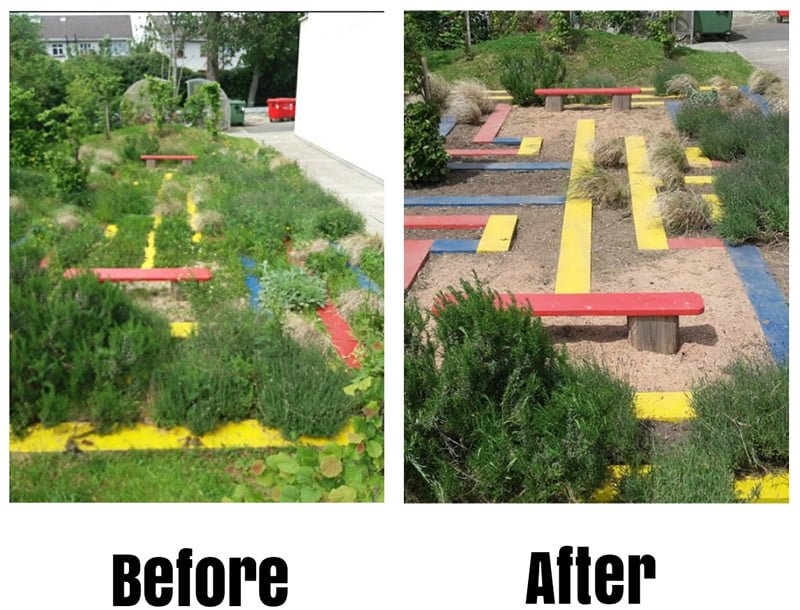 We are very lucky here in Holy Rosary to have fabulous school grounds. We have a full sized pitch or "the field" as it's known, a biodiversity garden, a pond, a wormery, a fairy garden and behind the school we have a sensory garden, a playground and an outdoor classroom.
There is a lot of work to maintain the various gardens and we recently had a group of volunteer parents very kindly give us a morning of their time to weed our sensory garden. As you can see by the before and after pictures they did an amazing job!
We got an extremely generous donation of bark for the garden so we we will be looking for more volunteers soon. Keep an eye out for an email or text. Thanks again to our fantastic volunteers and we hope to see more of you soon.
If you would like to get involved or have any questions please contact Jessica Carthy on 0860276666.