Welcome to the website for Holy Rosary Primary School.
Welcome
Welcome to Holy Rosary Primary School's website. We hope this site will give you an insight into the busy and bustling hive of activity that is Holy Rosary Primary School.
In our school we want to create a happy, caring school where young people are encouraged to maximise their potential.
We would like to thank all the parents and teachers who volunteer to give our children the widest educational experience possible and help make Holy Rosary Primary School great!
The Student Council organised a Christmas Food Collection for The Peter McVerry Trust.
12 large boxes of food were put together from all the donations received.
A huge thank you for your generosity. These donations will help provide a wonderful Christmas for
the families and individuals that The Peter McVerry Trust supports everyday.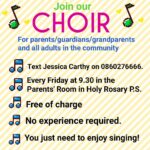 Our choir for adults starts back up this Friday at 9.30-10.30 in the Parents' Room. Parents/guardians/grandparents and all adult members of the local community are most welcome. We are a very casual and informal choir singing loads of different types of songs from This Is Me from the Greatest Showman to California Dreamin' by The Mamas and the Papas and we are open to any and all suggestions! There are no auditions, solos or sheet music, it's just a lot of singing and fun. If you would like more information or you would like to come along on Friday to give it a go call or text Jessica Carthy on 086 0276666.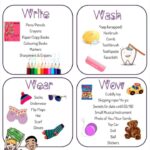 It's that time of year again when we are launching the Christmas Shoebox Appeal. The closing date for the Team Hope Christmas Shoebox Appeal is November 4th 2019. Please give your completed shoebox to your child's teacher on or before that date. The children should have received the leaflets with all the information. Please find attached a poster of ideas of what to include and what to avoid. You will find lots of information about what to include and where the shoeboxes go on www.teamhope.ie. Thank you to everybody who has supported this worthwhile cause in the past. Last year we sent away 164 shoeboxes and we're aiming even higher this year!
Well done to all the boys and girls in Mr Heavey's class on their performance in assembly today. Éire abú!
Important Dates
Holy Rosary School will close for the summer holidays on Friday, 28th June at 12.30pm and re-open for all pupils on Thursday, 29th August.
Stamped Addressed Envelopes
Please send a Stamped Addressed Envelope to your child's teacher for the posting of your child's report and booklist. Failure to send this in will result in you not receiving the above documents and school will be closed for most of the summer so they will not be available to you until September. The booklists will be posted on the school website www.holyrosaryps.ie.
You will receive a text/email early in July giving you the link to enable you to pay for your child's book bill online. You can pay small amounts regularly on line if you wish or alternatively you can pay the teacher in September.
If any child is not returning to school in September please let us know as we have people waiting for places.
Arts and Activities Week
This week saw the return of our annual Arts & Activities Week. It has been a fun-filled action-packed week. There will be drumming, dancing, face painting, gymnastics, hiking, art, music, soccer blitzes and even a visit from a rock band to name but a few activities.
Parade
Our Parade for Arts & Activities Week will take place on Monday, 24th June at 11.30am. Please feel free to come along and cheer us on as we pass by.
Sporting Success
A big congratulations also to the school basketball team on their success in the Annual Tallaght Garda Basketball Tournament in the Basketball Arena. They made it to the Semi Final which takes place this afternoon and we wish them all the best. Well done to all the children involved and to their teachers Ms. Thornton and Ms. Morgan.
Athletics: Well done to all the boys and girls who participated in athletics this year. The children brought home medals from Corkagh Park and from Santry. They were involved in Cross Country, Hurdles, Long Jump, Shot Putt and various other races. The boys and girls did the school proud and we hope to continue on with this success for years to come.
Website
Just a reminder to visit our school website for more information and updates on school activities. Find us at www.holyrosaryps.ie. Parents Association Facebook Page: http://www.facebook.com/holyrosarypa Twitter Feed @HolyRosary1
Sports Day
Our Sports day will take place on Tuesday next, 25th June. Junior Sports Day is from 9.40am – 12pm (small break is at 11 – 11.20am and the children will eat inside). Senior Sports Day is from 12.45pm – 2.45pm. Children will wear their tracksuits on the day. Parents are welcome to come and watch the fun!
6th Class Graduation
The 6th class graduation ceremony will take place next Tuesday evening in the school at 7.30pm. We would like to wish all of our 6th class students the very best of luck in the next chapter in their lives as they progress to secondary school.
First Holy Communion
Congratulations to the boys and girls in second class who made their First Holy Communion on Saturday 25th May. Thanks to all those who supported them in their preparation and helped in any way.
H.S.C.L News
Second Hand Uniform Sale
Uniform sale will take place in the school on Wednesday and Thursday 26th and 27th of June at 9am, 2pm and 3pm and on Friday 28th at 9am. Children do not need to wear their uniforms for the last week of school.
There are a lot of coats/jackets, uniforms etc. in the lost and found box. If your child has lost items of their uniform during the year please come and check in the lost property box as soon as possible as if these items are not claimed we will put them in the clothes collection at the end of the year.
Clothes Collection
Will take place on Friday, June, 28th. There will be a park and drop zone outside the Parents Room (Eco Rooms) on Friday morning at 9am until 10am, please do not leave bags after this time. We accept all clean clothes, curtains, bedding, paired shoes, belts, handbags, underwear, blankets and soft toys. Not acceptable: Quilts, pillows, dirty or wet clothing, mats, carpets, off cuts of material or single shoes.
Coffee Morning
The Parents Association is organising an end of year coffee morning in the school hall on Friday, June 29th from 9.30 – 11am, all welcome.
Thank you
A big thank you to all the parents and other helpers who helped out with various activities throughout this school year. We could not have provided many of these without your help.
Finally we would like to wish everyone a very happy and safe summer holidays.