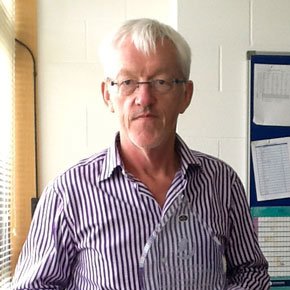 Dear Parents & Guardians,
The following is some further information about events between now and Christmas which I hope you will find useful.
Change
We are celebrating our first year in the new school with an Open Week at the end of November, (23rd – 28th). A more detailed account is added at the end of this letter.   Some of the events we are planning include an Open Day on Sunday the 23rd of November which will showcase the many and varied activities which take place in the school. This will include a preview of our show 'A Night at the Movies.'  The Architect Arthur Mallon and the Landscape Designer Marcus Flannery, will be available to explain the rationale for their designs. Dolores Kelly, the new school principal will attend.
On Wednesday 26th Ms Jan O'Sullivan, the Minister for Education will officially open the school. This will take place at 12 pm. On Friday the 28th at 7.30pm there will be a Mass in our Church to celebrate the retirement of Connie Durcan and myself. Bishop Eamon Walsh will be the celebrant. Fr Micheal Comer, Fr Liam Belton & Fr Hugh Kavanagh will assist him.  It is our intention to have an ecumenical aspect to this event, so we hope that representatives from the different denominations in our school will attend and participate. After the mass the Bishop will bless the school and this will be followed by a reception in the school hall.
Of course the centrepiece of our Open Week will be a show with pupils and staff. This will be another memorable occasion and it will be the first public event in our new hall.
Parents & guardians are invited to all of these events. I would like to ask you to assist with two other items, if you can. (1) Could you encourage friends & neighbours to attend the Open Day, and (2) We will need volunteers to assist with catering, supervising car parks, meeting & greeting etc. Our staff in the school have done an enormous amount of work in organising these events and any assistance you can give us would be appreciated.
Showtime!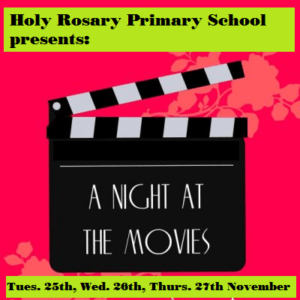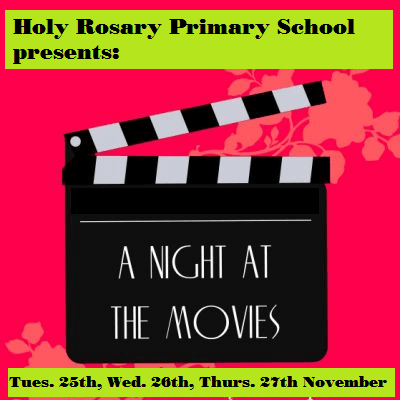 Rehearsals are well underway for 'A Night At The Movies,' our latest school musical.  The show features pupils from 4
th
, 5
th
and 6
th
class performing selected scenes and songs from our favourite movies.  The pupils and teachers involved have been working exceptionally hard to bring the show to the stage and it promises to be a roaring success.
The show has the dual purpose of celebrating the school's official opening as well as marking the retirements of Max Cannon and Connie Durcan.  It will take place on Tuesday 25th, Wednesday 26th and Thursday 27th November 2014 at 8p.m.  Tickets cost €5 and these will be available in the lobby from 9am on Wednesday 12th, Thursday 13th and Friday 14th November.
There will be a raffle each night for some fantastic spot prizes and a shop for refreshments will be open during the interval.
If anyone would like to donate a spot prize for the raffle we would be very grateful.  This can be left in at the school office.  We look forward to seeing you at the show!
Other News
We are very excited about the launch of our new School Website holyrosaryps.ie. Daragh Mulvey, one of our parents has done an incredible amount of work and research to make this possible. He received great assistance from various staff to create an interesting, interactive website. It will provide opportunities to celebrate the learning, the fun and the achievements of our school over the next number of years. It will also be a platform for sharing useful information about things that are happening in our school community.  We would encourage you to visit the website for up to date news.
We would like to draw your attention to the fact that the flooring in the hall is a soft material for sports purposes, please be mindful of footwear when attending activities in the hall e.g. please don't wear stiletto heels.  Thank you for your assistance.
Opening Week Calendar
Date
Time
Event
How you can help
Sunday 23rd November
11.30am – 1.30pm
Open Day for the Community where parents and friends are invited to come in and see aspects of school life in Holy Rosary. There will also be a talk given by Marcus Flannery Landscape Designer, Don Cronin Artist and Arthur Mallon Architect. Preview of show 'A Night at the Movies'

Car Park
Meet & Greet
Catering
Security

Monday 24th November
10.45am – 12.15pm
Past Pupils of Holy Rosary who are currently in secondary school will be invited to tour the new school.
Tuesday 25th November
9.45am – 12 Noon
Principals, Teachers and educators who work in the locality are invited to a tour and reception in the school.
Tuesday 25th Evening
8.00pm – 9.30pm
Show 'A Night at the Movies'

Starring staff and Children of Holy Rosary

Wednesday 26th November
12 Noon
The school will be officially opened by the Minister of Education, Jan O'Sullivan. Parents and members of the school community are invited to this event.

Car Park
Meet & Greet
Catering

Wednesday 26th Evening
8.00pm – 9.30pm
Show 'A Night at the Movies'

Starring staff and Children of Holy Rosary

Thursday 27th November
11.15 – 12.30
Parents, who were involved when the school was established in the 1980's and onwards are invited for an hour or so of reminiscing
Thursday 27th Evening
8.00pm – 9.30pm
Show 'A Night at the Movies'

Starring staff and Children of Holy Rosary

Friday 28th November day
Anytime
Friends and family of staff members are invited along for a tour of the school and refreshments throughout the day
Friday 28th November evening
7.30pm
Bishop Eamon Walsh will celebrate mass to open the school and to mark Max and Connie's Retirement this will be followed by a reception in the school.

Car Park
Catering
Meet & greet
If you can help on any of the above days please return by Friday 14th.  Once you volunteer we will contact you with details.
"———————————————————————————————————————
Name:___________________________________________ Mobile No____________________________________
Your Child's Class Teacher:___________________________________