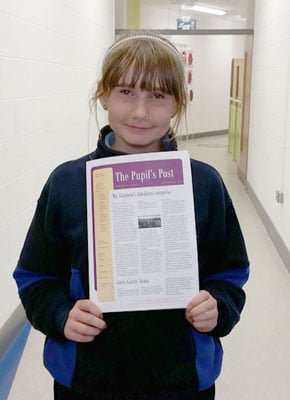 Hi and welcome to the very first edition of our new school newspaper – "The Pupil's Post" published by us kids, for us kids. We are bringing you all the latest school info and gossip, along with other interesting articles, fun facts, and reci-pes etc. There's competitions as well with prizes to be won so don't forget to drop your entry back to Mr. McGowan's classroom to be in with a chance to win !!
The biggest news of the year (or decade !) is of course our new school building. I know we all can't wait to move in, and Mr. Cannon has spilled the beans about the move in our exclusive interview on page one.
I hope you enjoy reading this, and all our future editions throughout the school year.
The Editor – Alessandra
(and all of Mr. McGowan's 6th class)
In this month's newsletter: 'Death by chocolate' cupcakes | Mr Cannon's Fabulous Surprise | Girls Gaelic Team | Sports Review | The Amazing Adventures of Daisy the cow | Things you never knew about One Direction | What you should be wearing this Autumn | Movies & Fashion | Recipes | Comic Strip | Short Story | Competitions | Ariana Grande | Banana Bread | Chocolate Centred Cupcakes | Chocolate Chip Cookies | Ginger Bread Men | Ice Cream Sundae | Interesting Facts about dogs |

Download
The Pupils Post September 2013