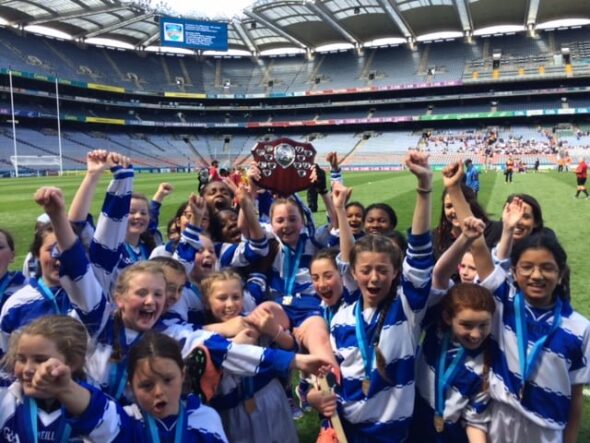 Hugh congratulations to the girls camogie team who defeated Assumption in a thrilling match in the Cumann na mBunscoil Sciath Olly Quinlan final in Croke Park yesterday.
The team led by their captain Kerry put on a fantastic display of camogie and were dominant all over the pitch throughout the whole game.
The forwards and midfielders proved to be a constant threat to Assumptions defence while our defenders and goalkeepers were rock solid and let nothing passed them. A serious team performance.
It has been 20 years since the Holy Rosary Camogie team brought silverware back to Ballycragh and this team are sure to go down in the history books following their win.
The girls were welcomed back to the school by their families, friends and a whole school guard of honour while "We are the Champions" played over the intercom.
With players like our girls we are sure to have more success in the future.
Best of luck to our 6th class team mates who will leave us on a high. We hope you keep playing camogie as you are a very talented bunch and wish you every success in your future camogie careers.
Keep an eye out for the Evening Herald on Wednesday and The Echo on Friday which will both have coverage of our game and you might spot a celebratory picture of the team in today's Independent.