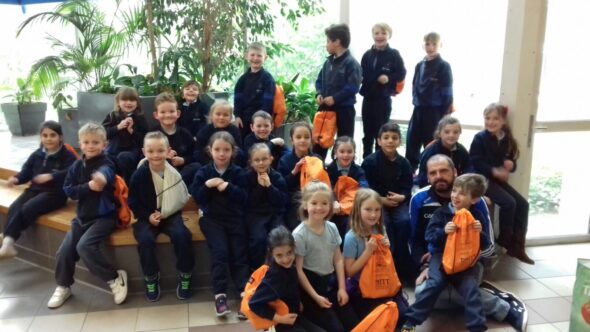 All Aboard Project at Tallaght IT
The children of first class had the most amazing day at Tallaght IT as part of the All Aboard Project. The children had a hands on introduction to robotics, circuits and 3D printing.
Our Trip to Tallaght IT
First we went to a lab and we played with robots. We put markers on the robots and got them to draw a picture by themselves. Next we played with circuits! They were so much fun. We made a circuit that made a light turn on and off; a fan spin and we got it to play "Happy Birthday" for a boy in our class! It was so cool. After that we went to another lab and they showed us how to do 3D printing. They told us that the 3d printing made arms for children born with no arms and braille for children who can't see.
by Amy Mulvey
My favourite part was…
"playing with the circuits!" Amy
"the robots because you can connect markers to them and they draw lots of things!" Adam
"playing with the robots because they were so cool!" Lucy
"the whole day!" Liam
"the circuits because we could make it light up and fly." Aidan
"when we went to the first lab and made the circuits fly!" Sammy
"the first lab because I loved the Lego robots and the circuits." Ava M
"was going to college and making the circuits." Filip
"the 3D hands." Mohamed