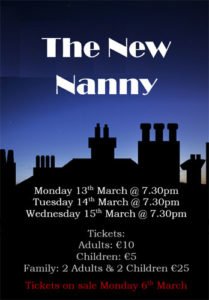 The 5th and 6th class children in the school choir have been busily preparing for our latest show. The show will also have some special guest performers that you may recognise……the staff!!! This time we are putting on an all singing, all dancing musical extravaganza called The New Nanny.
The show will take place in our school hall on:
Monday 13th March @ 7.30pm
Tuesday 14th March @ 7.30pm
Wednesday 15th March @ 7.30pm.
Tickets: Adults €10, Children €5. Family: 2 Adults & 2 children €25.
Tickets go on sale Monday 6th outside Kathleen's room.
We look forward to seeing you there for what promises to be a fantastic night of musical entertainment.