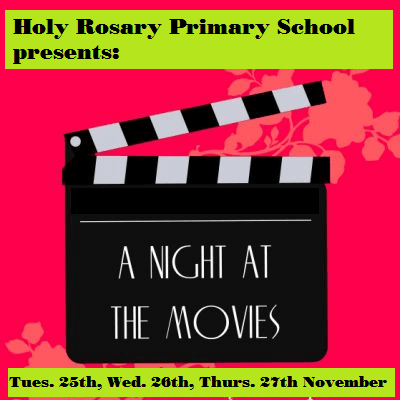 The boys and girls in Holy Rosary's 'X-Factor' choir have been busily preparing for their show 'A Night at the Movies'. The show will feature many favourite hits from films ranging from Shrek to Despicable Me. Preparations are in full swing from set design and construction to dance and singing rehearsals. Show tickets are available now!
The show is a part of the open week to celebrate our new school opening.  We are also marking the occasion of Mr. Cannon and Ms. Durcan's retirement so the staff will be performing a little tribute and farewell. We are very excited to be putting on the first show in our brand new hall on our state-of-the-art stage. We hope you can come along to see the new hall and join us in our celebrations.
The show will be on at 8pm on Tuesday 25th, Wednesday 26th and Thursday 27th of November. The tickets will be on sale each morning from 9am in the lobby on Wednesday 12th, Thursday 13th and Friday 14th November. The tickets are €5 and all the money will go towards the Arts Education in the school. There will be a shop open before the show and during the interval to get some tasty treats and there will be a raffle each night for some fantastic spot prizes!
It promises to be a night full of singing, dancing and fun (and maybe a few tears)!! We hope to see you all there!