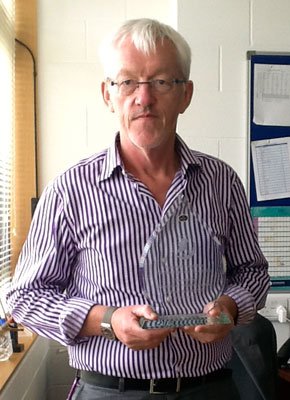 Dear Parents & Guardians,
By now you are probably aware that I will be retiring from the post of Principal Teacher after Christmas. It has been a great privilege to be Principal in such a vibrant, stimulating and supportive school community. I deeply appreciate the constant support received from parents, staff and especially pupils.
Ms Dolores Kelly has been appointed as the new Principal of Holy Rosary and she will be taking up the position from the 1st of January. Ms Kelly is currently Principal of the Convent of Mercy (Kennedy Park) in Wexford and I expect that over the next few weeks you will have the opportunity to meet her.
This will be the beginning of another new phase in the life of the school. I am confident that fresh initiatives and ideas will, with the assistance of staff, be introduced and implemented and they will have a very positive impact on all aspects of the school. I am also confident that Ms Kelly will receive the full support of parents and staff.
I would also like to pay tribute to Sean Goan, (Chairperson) and the members of the Board of Management who put so much energy and thought into the appointment. The school is blessed to have such committed and reflective personnel on our Board of Management who are so committed to the welfare and progress of the school.
Max Cannon,
Principal
Sí na Gaoithe, (The Fairy Wind)

You will have noticed that a sculpture has just been erected outside the main door of the school. It's called Sí na Gaoithe. This is part of the Governments commitment to fund works of art in new public buildings. While the piece was commissioned by the school, (after interviewing prospective artists), the piece was totally funded by the Department of Education. Some people have wondered why the money could not be spent on educational materials but the school had no choice in this matter.
Don Cronin was the artist and he met staff and pupils to consult with them and explain his ideas. Many times, for no apparent reason, we experience small gusts of wind, almost like a mini-whirlwind, which sweeps up leaves, crisps bags, etc. In rural areas, when small rucks of hay were swept up by these gusts of wind it was explained as the work of the fairies or the invisible "little people." The art piece is representative of this idea. It is a swirling, graceful work, which has swept up oak leaves and is a link with the beauty, innocence and rich imagination of our past. Our thanks to the group of people who worked on the commission, including two members of staff who helped us with this project Ciara O'Dea and Annie Simms.
School Closes for Halloween Break on Friday 24th October. This is a normal school day and children may dress up if they wish.
Other Important News
There will be a staff meeting on Thursday the 6th of November and school will close at 2 pm.
If you have not paid for your book bill, you should contact Kathleen, Maria or myself. We understand that there are many families under financial pressure and we will be sensitive to this situation.
To celebrate the New School and the end/beginning of a new era there will be an open week beginning on Sunday the 23rd of November and ending with a Mass with celebrant Bishop Eamon Walsh on Friday 28th of November. More details to follow, but do try to keep this week free to meet up with some old friends and to remember and reminisce on past glories!
Our thanks to Daragh Mulvey who has done brilliant and imaginative work in redesigning our web site. The new website will be live from the 10th of November.
A letter of explanation in relation to traffic and parking in the school grounds will be sent out in the next few days. However, if the car park is full please park outside.
Information evening for parents of pupils starting in September 2015 will take place in the school tomorrow evening at 7.30p.m. The closing date for applications is this Friday, 24th October 2014.
A lot of school coats, jumpers etc. have already found their way to our lost property box. Please label your child's belongings as the school cannot be responsible for lost property.
Reminder that the school is strictly a non smoking area and also no dogs are allowed on the premises whether on a lead or not.
Reminder to please inform the office of any changes of phone numbers or addresses.
If you require any letters from the office you must give at least one weeks notice.
Download the
Parent Newsletter of the 20th October 2013
as a Microsoft Word Document.