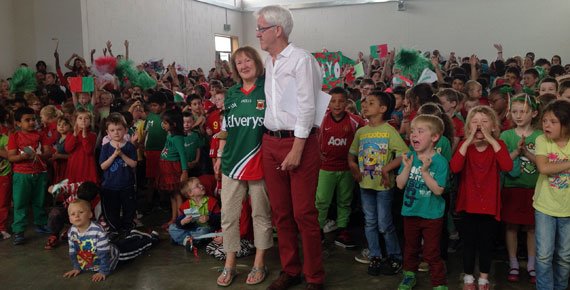 The end of June 2014 signalled not only the end of another school year but the end of an era for our beloved deputy principal Connie. As our school was ablaze with the 'unfamiliar' sight of red and green, we the staff and students said our goodbyes, shed a tear and celebrated Connie's thirty years of unrelenting dedication and commitment to our school community.
From our school's humble beginnings in Firhouse College, Connie's engaging and vibrant personality was infectious as she unleashed her love of nature, poetry and the arts on her fellow students, staff and parents alike. Then moving to our 'country-like' school building, Connie, along with her buddy Max, worked tirelessly to develop and build a strong, supportive and solid school community. It became evident over time, that teachers, students and parents could work together supporting and caring for each other in the learning process. This ethos is still very strong today and has attributed to a very happy and pleasant school environment in which to work and learn.
Connie's unselfish nature spread to the local and wider community. On many an occasion parents and locals were invited to participate in many of her decoration and sewing workshops, flower arranging demonstrations, music sessions…. (skiddleye), Irish language and conversation classes to name a few.
As the school grew in size, Connie became a 'mother figure'/ 'mother hen' to all of us on the staff feeding us, hounding us, over cleaning, tidying, recycling! All advice was given with the best of intention. Whether it was all taken on board is another story!
She gave her 'heart and soul' to all projects and challenges that crossed her path and last year both Connie and Max together faced their biggest challenge yet- the new school building! Some may say it was and is their finest moment as the new building reflects and incorporates all that is good and positive about our school community.  Every little detail counts, is important, makes sense, has meaning and has been deeply thought about!
Connie's spirit lives on in every corner, hook and cranny of the new school. We owe Connie and Max so much. Thank you for everything especially the memories and the fantastic legacy you leave behind for us to enjoy:
Go n-eiri an t-adh leat Connie!